About Cuba
Love travel? Fun? Adventure? Always wanted to go to Cuba? From drink to sites, music to sport, we have nailed the best 18 things to do in Cuba. This list offers a special angle from which to experience our love of this exciting, colorful island country. Her people keep us coming back for more! We now share our personal favorites.


See our Facebook page for the latest information on Cuba
Map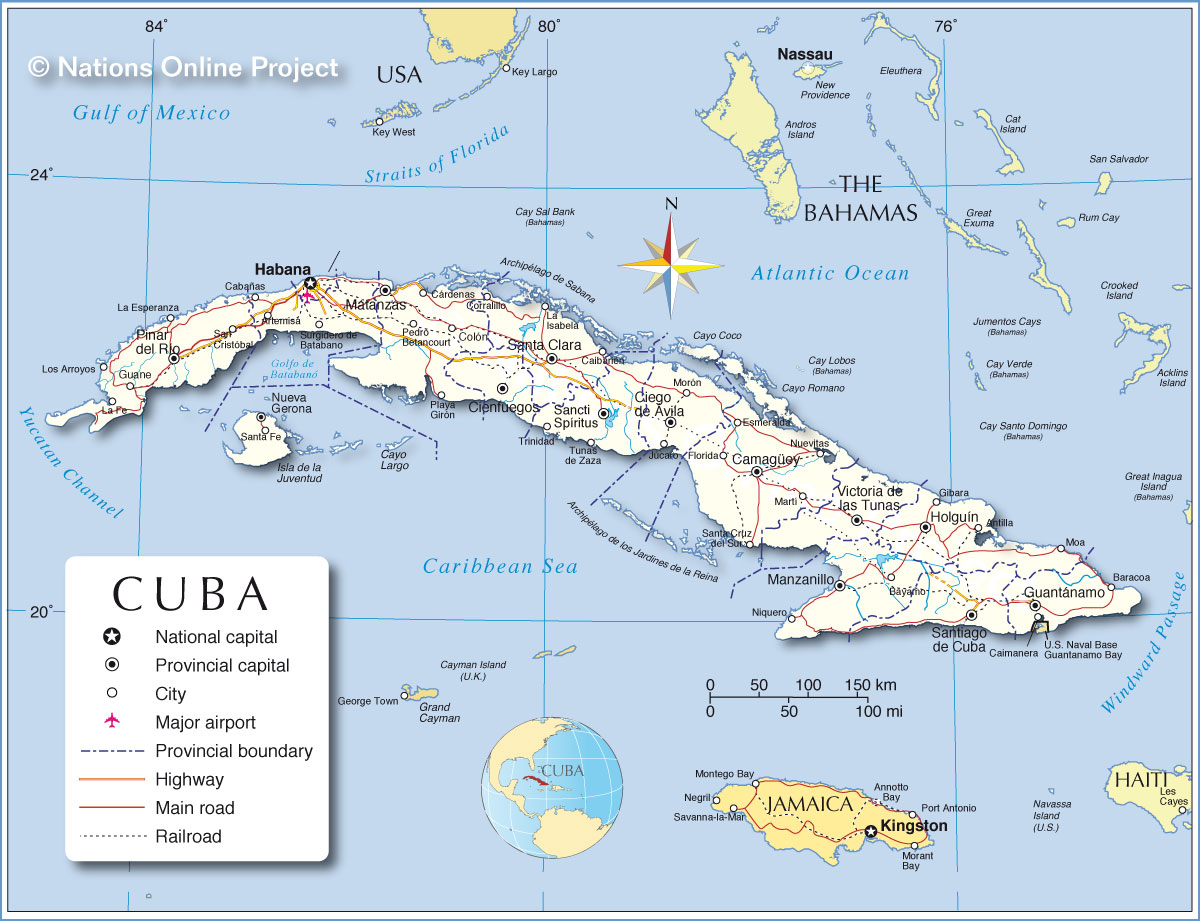 Weather In Cuba
Mostly Cloudy

A mix of clouds and sun during the morning will give way to cloudy skies this afternoon. A stray shower or thunderstorm is possible. High around 85F. Winds NE at 10 to 15 mph.

Chance of a Thunderstorm

Cloudy skies during the morning hours followed by scattered showers and thunderstorms in the afternoon. High 86F. Winds ENE at 10 to 15 mph. Chance of rain 50%.

Thunderstorm

Scattered thunderstorms in the morning, then mainly cloudy during the afternoon with thunderstorms likely. High 87F. Winds E at 5 to 10 mph. Chance of rain 80%.

Partly Cloudy

Partly cloudy. High 89F. Winds ESE at 10 to 15 mph.
Apps and Reads
Computer/iPad Applications
Cuba
by Triposo
For iPad and iPhone
Current info on paladares, theatre, etc. Even has suggestions 'for a rainy day!'
---
Havana Good Time
by Sutra Media
For iPad and iPhone
Fabulous resource for locating colorful shopping areas, tasty restaurants and other interesting tidbits about travel in Cuba

---

iSpeak Spanish
by Future Apps Inc
For iPad and iPhone
Great to take with you for those
---
Books
An Island Called Home: Returning to Jewish Cuba


by Ruth Behar
A wonderful memoir written by the author including photos and stories of people we may meet during our Cuban missions.

---

Castro's Daughter: An Exile's Memoir of Cuba
by Alina Fernández Revuelta
An autobiographical journal of Castro's daughter giving an idea of what it was like to grow up in the early days of the Revolution.

---

CUBA For the Misinformed – Facts from the Forbidden Island
by Mick Winter
Cuba for the Misinformed is a highly accessible compilation of information that few Americans know about this island nation. A lively survey of Cuba's past and present.

---

The Cuba Reader: History, Culture, Politics (The Latin America Readers)
by Aviva Chomsky 
The Cuba Reader is an outstanding anthology of Cuban speeches, legal texts, poems, fiction, essays, photography, historical analysis and more. It combines songs, paintings, photographs, poems, short stories, speeches, cartoons, government reports and proclamations, and pieces by historians, journalists, and others. Most of these are by Cubans, and many appear for the first time in English.

---

Hemingway's Cuban Son-Reflections on the writer by Rene Villarreal and Raul Villarreal
Story of a poor, young Cuban boy who grew into a man and gained the trust and respect of a famous American author, whom he loved like a father. A man he called 'Papa'

---

The Other Side of Paradise: Life in the New Cuba
by Julia Cooke 
Combining intimate storytelling with in-depth reportage, this book weaves together stories of the Cubans who the author encountered, providing a vivid and unprecedented look into the daily lives and future prospects of young people in Cuba today.

---

Tropical Diaspora – The Jewish Experience in Cuba
By Robert M. Levine
Drawing on oral histories and other sources, this traces the sociopolitical ups and downs and relationships of the Jews who settled in Cuba. Particularly noteworthy are the author's accounts of the SS St. Louis incident in which Cuba rescinded landing rights to Jews seeking refuge from Nazi Germany, and Castro's relationship with Jews.

---

Waiting for Snow in Havana: Confessions of a Cuban Boy by Carlos Eire
Moving narrative with humor about young boys and the bizarre family dynamic during the revolution